Problems in Casting Process of Lost Foam Casting
---
Release time: 2020-08-20 16:11:00.000
Lost foam casting (LFC) process has been developed rapidly in recent years because of its low investment and low cost.The gating system plays a very important role in the lost foam casting process, and it is a key to the success of casting production.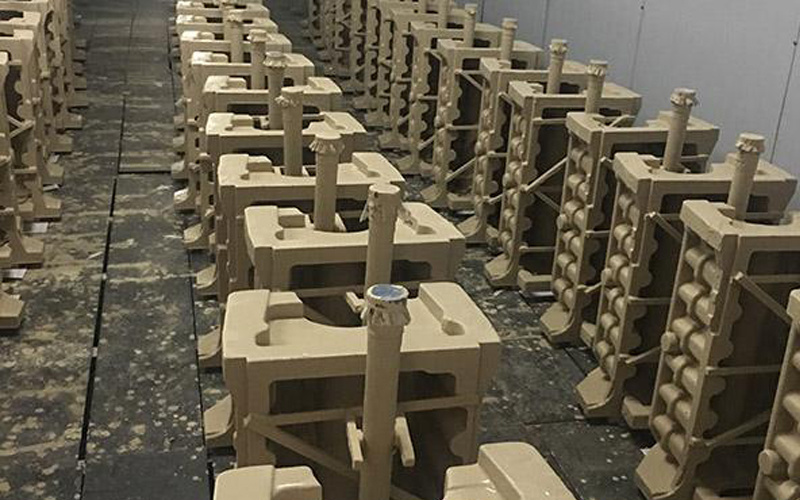 In the lost foam casting, in order to discharge the gas and the residue of pattern gasification, the sprue should have enough height to make the molten metal have enough pressure head to promote the molten metal flow to fill the mold stably and quickly, so as to ensure the complete and clear surface of the casting.In practice, some enterprises use the original pouring cup for sand casting, because of the small size, it is easy to cause the phenomenon of workpiece scrap due to the unstable liquid flow.In order to ensure enough flow to make the pouring process continuous and quickly establish the starting pressure head, a larger pouring cup can be used; The sprue is made hollow to reduce blowback and increase the head at the start of pouring.
The strength of the mould is much higher than that of the green sand when the mould is moulded by this method. Adopt that method of negative pressure pumping can improve the stability of the CAS mould and timely pump away the pyrolysis gasification products generated during the gasification of the mould.However, in the production process, some factories only pay attention to the surface negative pressure before pouring, but often ignore the negative pressure changes in the pouring process, resulting in casting defects.This problem can be well solved by adjusting the negative pressure in the pouring process according to the size of the casting and the amount of pyrolysis products.
More News
Problems in Casting Process of Lost Foam Casting
Lost foam casting (LFC) process has been developed rapidly in recent years because of its low investment and low cost.The gating system plays a very important role in the lost foam casting process, an
The V process casting originated in Japan. It uses plastic film to vacuum to make dry sand molding, that is, physical modeling.Because it does not use binder, shakeout is simple and convenient, the co
多行文本内容元素
富文本内容绑定数据后可解析HTML语言内容
---
SEO This website supports IPV6

Scan