It has become a trend for foundry industry to move from tradition to intelligence
---
Release time: 2020-08-18 10:43:00.000
There are many factors affecting the quality of castings, especially the casting defects.With the application of computer numerical simulation technology, it is to pre-examine the product design and refine and quantify the process parameters at the technical level; Through the casting process simulation, the technical personnel can get rid of the random phenomena of trial-and-error based on personal experience and fuzzy sense design in the casting process, ensure the visual and quantitative design and manufacturing parameters of casting, and promote the application of digitalization; Every casting operation process, especially the key process and key links, such as mould manufacturing, core manufacturing, coating baking, etc is controlled by quantitative parameters which implement a unified standard.Nowadays, the successful application of advanced technologies such as 3D printing technology and industrial robots is to complete the unified and accurate operation of the same product through the interaction of a large amount of data, which ensures the reproducibility of product manufacturing;On-line digital control is to get rid of the extensive management of traditional foundry and solve the unstable quality problems caused by changes in emotional factors, environmental weather or staff loss, so as to ensure the consistency of mass product quality.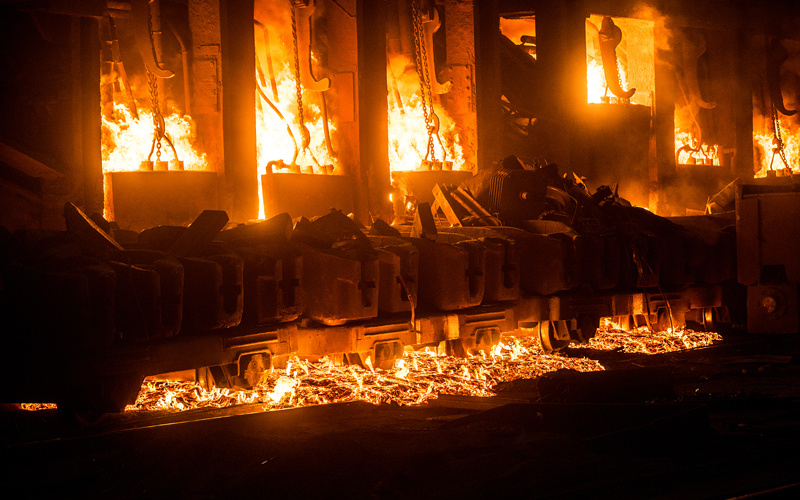 In the new era of big data, traditional foundry enterprises and traditional production methods are seriously challenged.
Intelligent casting is the highly integrated product of information technology and casting production, including intelligent casting technology and intelligent casting system. Intelligent casting technology includes digital simulation, 3D printing, robotics, ERP, etc;Intelligent casting system is a big data knowledge base with learning ability, which can carry out self-planning and self-improvement through the comparative analysis of environmental information and its own information.The typical application mode of intelligent casting is digital foundry, which uses information technology to manage all internal processes, such as production process, quality control process, financial process, product development process, human resource management and training process, and at the same time uses information technology to deal with the related processes with suppliers and customers.It can simulate and control the whole production process. In the digital foundry, heavy physical labor has been basically eliminated, 80% of the employees can work in air-conditioned rooms, the environment is clean, and the production efficiency and efficiency have been greatly improved.
More News
Problems in Casting Process of Lost Foam Casting
Lost foam casting (LFC) process has been developed rapidly in recent years because of its low investment and low cost.The gating system plays a very important role in the lost foam casting process, an
The V process casting originated in Japan. It uses plastic film to vacuum to make dry sand molding, that is, physical modeling.Because it does not use binder, shakeout is simple and convenient, the co
多行文本内容元素
富文本内容绑定数据后可解析HTML语言内容
---
SEO This website supports IPV6

Scan