Sand Casting
---
Release time: 2020-08-06 11:54:44.000
As a kind of casting sand, ceramic foundry sand has the advantages of high refractoriness, low expansion rate, low breakage rate, good spherical shape, high air permeability, good filling and no silicon dust hazard. It is suitable for sand casting (molding sand, core sand), V-method casting, lost foam casting (filling sand), coating (ceramic foundry sand powder) and other casting processes.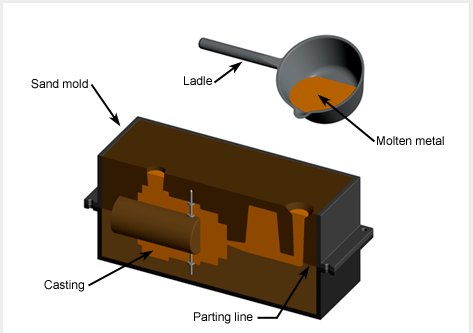 Sand casting, the most widely used casting process, utilizes expendable sand molds to form complex metal parts that can be made of nearly any alloy. Because the sand mold must be destroyed in order to remove the part, called the casting, sand casting typically has a low production rate. The sand casting process involves the use of a furnace, metal, pattern, and sand mold. The metal is melted in the furnace and then ladled and poured into the cavity of the sand mold, which is formed by the pattern. The sand mold separates along a parting line and the solidified casting can be removed.
Sand casting is used to produce a wide variety of metal components with complex geometries. These parts can vary greatly in size and weight, ranging from a couple ounces to several tons. Some smaller sand cast parts include components as gears, pulleys, crankshafts, connecting rods, and propellers. Larger applications include housings for large equipment and heavy machine bases. Sand casting is also common in producing automobile components, such as engine blocks, engine manifolds, cylinder heads, and transmission cases.


More News
Problems in Casting Process of Lost Foam Casting
Lost foam casting (LFC) process has been developed rapidly in recent years because of its low investment and low cost.The gating system plays a very important role in the lost foam casting process, an
The V process casting originated in Japan. It uses plastic film to vacuum to make dry sand molding, that is, physical modeling.Because it does not use binder, shakeout is simple and convenient, the co
多行文本内容元素
富文本内容绑定数据后可解析HTML语言内容
---
SEO This website supports IPV6

Scan