Characteristics of Ceramic Foundry Sand and Its Application in Foundry
---
Release time: 2020-06-30 09:38:00.000
The fused ceramic sand is commonly known as ceramic foundry sand, also known as fused ceramsite and ceramsite sand.It is made from high quality bauxite by calcination, electrofusion, granulation, screening and other processes. Ceramic foundry sand has the advantages of high refractoriness, no crushing, no dust, spherical shape, high air permeability, good filling and no silicon dust hazard; it is green and environmentally friendly sand.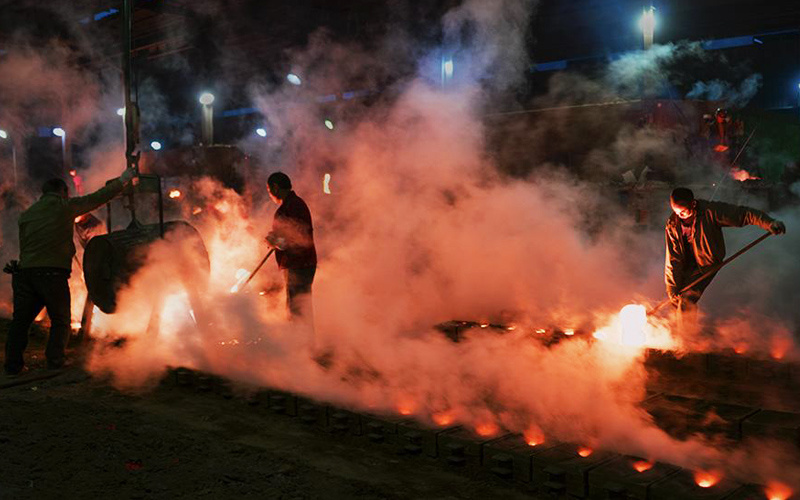 Ceramic foundry sand has high thermal conductivity, good stability, no cracking and wide application range. At present, most domestic foundry enterprises have made improvements in the selection of molding sand. The traditional low-price quartz sand or forsterite sand is abandoned, and the new precious bead sand is used to improve the casting problem. This new type of sand has the advantages of high refractoriness, good fluidity and high permeability, and solves the defects in casting production to a certain extent, so it has attracted wide attention of the international foundry industry and become the new favorite of foundry sand.
Ceramic foundry sand has a wide range of application and it can be used in sand casting, lost foam casting, V process casting, coated sand, shell casting and precision casting. At present, it is widely used in automobile casting, railway casting, ship casting, aviation casting, power generation casting, machine tool casting and mould casting. Now it is maturely used in ladle drainage, surface shot peening treatment, casting coating and other fields.
Case 1: Yulin Diesel Engine Factory used ceramic foundry sand to make diesel engine water suit, which kept the characteristics of the original sand, overcame the shortcomings of the original sand such as large expansion coefficient, large amount of binder addition and large gas evolution, reduced the amount of resin addition, and improved the rate of finished products.
Case 2: Fujian Kaicheng Machinery Co. Ltd. all use the ceramic foundry sand by adding 3.2% of sodium silicate and with all the cores and shape unpainted; After use, it is found that the surface of the casting is smooth, there is no sand penetration, and the energy consumption is low. Sand recycling equipment is also quite simple.
Case 3: Luoyang Luobei Steel Plant produce cement production equipment-Rotary Kiln Supporting Wheel weighing 13 tons. Its core (φ90mm, length 800mm) is made of 30-40 mesh precious pearl sand as raw sand, added with 3.5% sodium silicate, and hardened with CO2. Silica sand is still used as raw sand in other parts, and the original use method is not changed. When cleaning, it was found that there was only 0.2mm thick black glaze on the surface of the core shell, the surface was arranged in order, and was not sintered, and was easy to be cleaned off; In other parts where silica sand is used, there is a 3-8mm thick sintered black glaze layer on the shell surface.
Case 4: Dozens of manufacturers such as Luoyang Luobei Steel Plant, Ruyang Xingrong Machinery Plant, Shandong Hengcheng Foundry, etc mix ceramic foundry sand 30-40 meshes with 20-30% of fine particle 140-320 meshes. The results show that it has no metal penetration and is permeable enough and easy to clean.In order to reduce production cost, some steel foundries use local single-side sand method, which also has the effect of non-metal penetration.
In recent years, almost all large-scale foundries are using ceramic foundry sand as raw sand to produce coated sand, typical enterprises are:: Chongqing Changjiang River Moulding Material (Group )Co., Ltd., Beijing Renchuang Science & Technology Group, Taiwan Chinching Group, Tianjin New Wei San Industrial Co., Ltd.,Huettenes-Albertus Chemische Werke GmbH (HA).
Luoyang Ruiyu has been well-known for specializing in the production of foundry materials. In the past decades, our company focuses on the research, development and production of artificial foundry sand. With more than 10 years effort, Luoyang Ruiyu developed fused ceramic sand, which overcomes the shortcomings of traditional foundry sand. Ceramic sand has good shape, high refractoriness, and perfect stability under high temperature. It is a great cost-effective alternative for chromite sand and zircon sand and has been recognized by foundry experts home and abroad. Currently, Luoyang Ruiyu can produce 30000 tons of ceramic foundry sand with complete specifications every year.
More News
Problems in Casting Process of Lost Foam Casting
Lost foam casting (LFC) process has been developed rapidly in recent years because of its low investment and low cost.The gating system plays a very important role in the lost foam casting process, an
The V process casting originated in Japan. It uses plastic film to vacuum to make dry sand molding, that is, physical modeling.Because it does not use binder, shakeout is simple and convenient, the co
多行文本内容元素
富文本内容绑定数据后可解析HTML语言内容
---
SEO This website supports IPV6

Scan